About Us The second annual Humanitarian Hackathon at Brown University will bring together students from across Rhode Island to learn about the most pressing needs in the humanitarian sphere and develop creative ideas for innovative programs or technologies that could help improve the lives of disaster and conflict-affected communities around the world. Students from all disciplines and concentrations are encouraged to participate! *NO CODING EXPERIENCE REQUIRED
Organized By the Humanitarian Innovation Initiative and the Brown Humanitarian Society Sponsored By
BHS E-Board
Program
Hack for Humanity: Brown University's Second Annual Humanitarian Hackathon
Location: Stephen Robert '62 Hall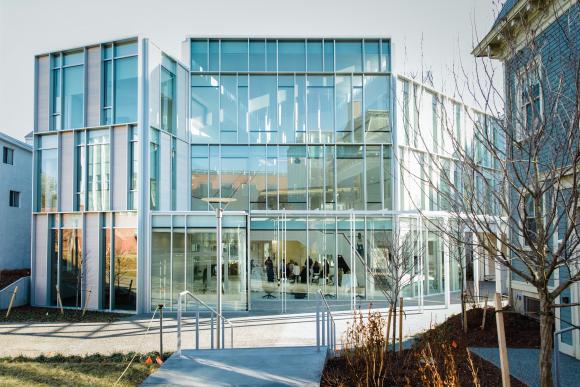 Detailed program coming soon!
Hackathon Lens: Hurricane María - Preparing for and Responding to U.S. Hurricanes
Using the case of Hurricane María as a lens for examining the current and future challenges that hurricanes pose to the United States, we encourage you to pitch ideas that fall within one of the following critical stages of disaster risk reduction and management: 1) Mitigation; 2) Preparedness, Adaptation, and Coordination; 3) Response; or 4) Reconstruction.
Venue
Stephen Robert '62 Hall
Prizes
Following all presentations, a panel of judges will award 3 project teams with grant funding ($500) to further develop their ideas. Details TBD.
To view last year's winners, click here.
Keynote Speaker
Ada Monzón Building Resilience through Innovation in STEM Education: Case Study: Hurricane Maria

Please click here to learn more about Ada Monzón.
Mentors/Facilitators
Over the course of the hackathon, participating teams will have the ability to meet with mentors in order to help gain a better understanding of the core issues associated with the lens and the challenge areas. We have selected mentors so as to have a wide range of expertise on hand to answer questions, provide in-depth context, and help guide your ideas to "real-world" relevance. Each mentor will hold office hours during the hackathon with 30 min block openings. A link to sign up will be made available to all teams at the start of the hackathon. We encourage you to make use of this valuable resource!
Ada Monzón
Chief Meteorologist for the WIPR-TV (Notiséis 360), Puerto Rico
Angela Blanchard
President Emerita of BakerRipley
Clara Decerbo
Deputy Director at Providence Emergency Management Agency (PEMA)
Deepak Lamba-Nieves
Research Director, Center for a New Economy
Elizabeth Fussell
Associate Professor of Population Studies and Environmental Studies, Brown University
Elizabeth Hermann
Professor of Landscape Architecture, RISD
Kevin Kugel
Director of Emergency Management at Providence Emergency Management Agency (PEMA)
Lily Bui
PhD, Urban Studies & Planning, Massachusetts Institute of Technology
Peter Haas
Associate Director of the Humanity Centered Robotics Initiative, Brown University
Alexander Adia
Brown University MPH Candidate
Stephen Bach
Assistant Professor of Computer Science, Brown University
Registration
Rules
You must submit an 

individual

application

Every person that completes an application is expected to attend the entire conference
After submitting your application, you will receive a confirmation email when your registration form has been received
Individuals will be placed into groups beforehand and assignments will be sent out a week before the conference

Submitting a Pitch:

Participants in the Hackathon will have the opportunity to "pitch" a potential idea for a project at the beginning of the Hackathon.

You do not have to submit a pitch to participate in the Hack, but the more people with ideas the better!

If you are thinking about a pitch, please indicate this interest in the registration form.

Those who have an idea to pitch will get the opportunity to describe the idea at a pitch session in the beginning of the hackathon. After all ideas are pitched, other participants can then form groups based on pitches

Pitches

do not have to be complete, formal projects. Examples of Pitches:

A specific problem within a track you would like to address

A technology that could be applied/modified for this situation

A program to address a certain concern or gap in current humanitarian responses

You do not have to submit the pitch to us, but if you would like some feedback before the conference itself, please feel free to email

brownhackforhumanity@gmail.com

and we can offer some guidance/resources!

Pitches must be submitted

individually,

if you and a group of friends have an idea, only one person can submit a pitch to be the presenter of the idea at the Hackathon's pitch session

If you decide to submit a pitch after you register, not to worry! A second pitch submission form will be sent out closer to the Hackathon. Or, you can email us directly (

brownhackforhumanity@gmail.com

).


Registration Opens: January 28th
Registration Deadline EXTENDED: February 20th
FAQS
Is this a coding/programming hackathon?

Not necessarily! This is modeled after coding hackathon events, but it is open to a wide variety of individuals We value the experiences and skills of people from various backgrounds and believe in their potential to produce interdisciplinary ideas. Humanitarian work relies on the intersection of many different people including those familiar with policy, design, engineering, programming, medicine and much, much more!
I don't have experience with humanitarian work. Will we have any guidance?

Yes! In the days leading up to the hackathon, the E Board will be providing and sending out multiple resources via email and on our social media platform. You can also find them in the "Resources" tab on our website. This event is what you make of it and coming prepared by reading the material beforehand gives you a really strong advantage! In addition to these resources, the Hackathon will have mentors, professionals who work and study these issues, to guide you along. To learn more, visit the "People" tab on the website!
What kind of projects will judges be expecting from this hackathon?
This hackathon is meant to be seen as a starting point for students to come together and brainstorm potential. Therefore we are not expecting fully formed and functioning ideas. Projects can range from physical inventions, digital solutions, web applications, policy-based solutions and much more! The judging panel will have a variety of experience so don't be afraid to be creative! And remember the most important aspect of your project should be its effectiveness within the context of your challenge. To see last year's winners, click
here
.
I'm not a Brown student. Can I still register?

Yes! This hackathon is open to all students in Rhode Island.
I have a group of friends I would like to form a team with already, can we register as a group?

Unfortunately no. It's awesome that you've found a group of people, but all members must still register as individuals for this event. Of course, once you've signed up for the event you can all form a team after the pitch session, but we want to encourage you to use this event to meet even more amazing people you can add to make your team even stronger!
I missed the registration deadline. Will there be a standby line the day of?

Unfortunately no. If you just missed the registration deadline and would still very much like to participate, please email us (brownhackforhumanity@gmail.com).
What should I bring to the hackathon?

Your Student ID, laptop, cell phone, power cords / chargers, notebook, pen/pencils, resumes, water bottle and lots of excitement!
How much does participation cost?

This hackathon is completely free to participate in. We will provide food and drinks.
What if I change my mind about the registration after I have submitted it?

If you would like to rescind your registration, please email us. If you would like to change your challenge preferences, please email us before March 8th.
What if I have a question that isn't listed here?

Feel free to email us at brownhackforhumanity@gmail.com with any further questions!
Tracks
Using the case of Hurricane María as a lens for examining the current and future challenges that hurricanes pose to the United States, we encourage you to pitch ideas that fall within one of the critical phases of disaster risk reduction and management. Please align your pitch to one of the below tracks.
---
Mitigation
---
Preparedness
---
Response
---
Recovery
---
Resources
For a compiled list of resources, please click here.
More Resources will be posted leading up to the hackathon specifically relating to each challenge. Please continue to check the site for new material -
Hack for Humanity is dedicated to providing a harassment-free/positive and inclusive environment conference experience for everyone regardless of gender, gender identity and expression, sexual orientation, disability, physical appearance, body size, race, ethnicity, age or religion. We do not tolerate harassment of conference attendants including participants, staff, mentors in any form. Conference participants violating these rules may be sanctioned/separated or expelled from the conference at the discretion of the conference organizers. 
Code of Conduct (Watson/Brown).